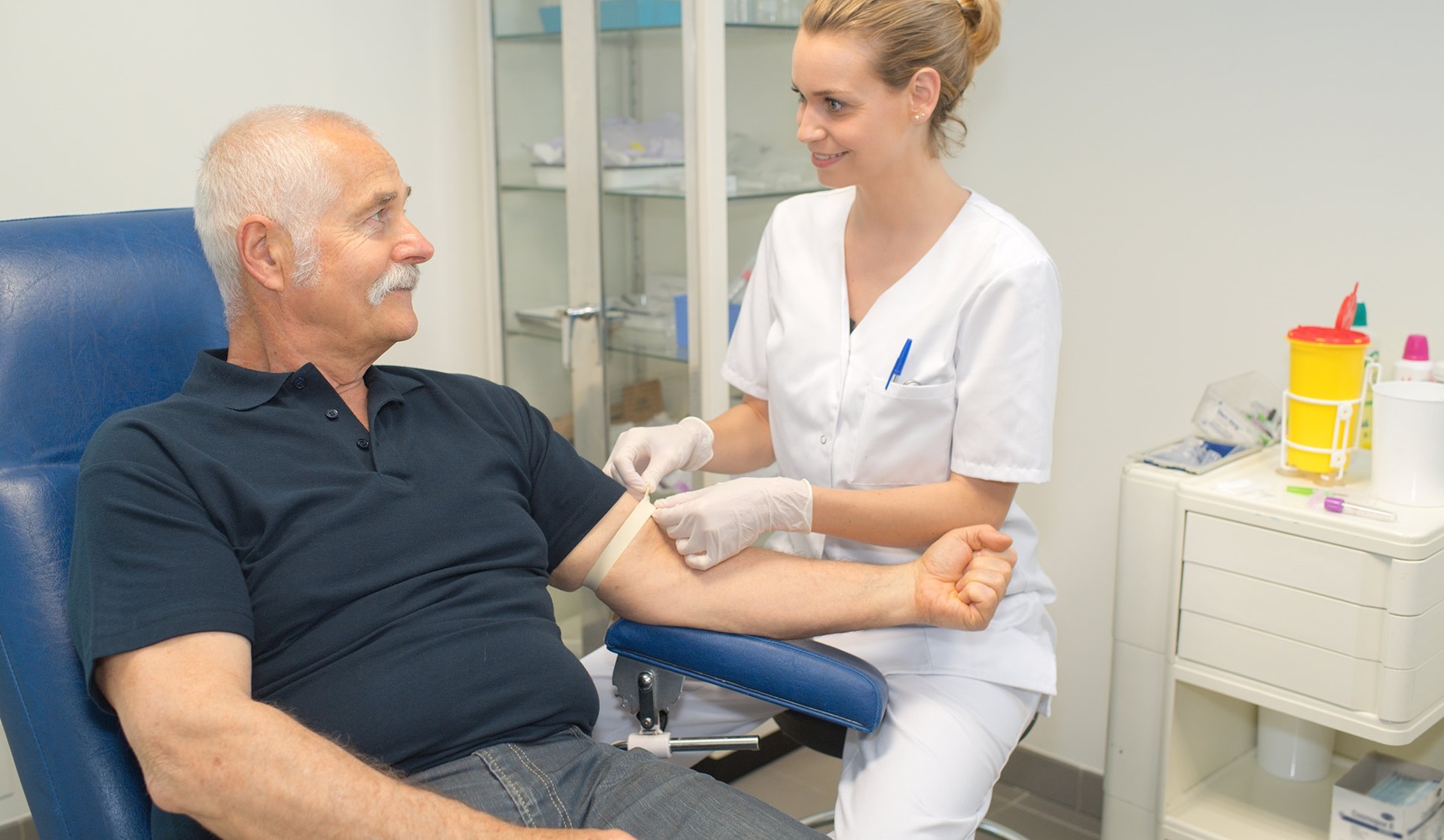 Get Started on Your Career
as a Phlebotomy Technician
Become Certified in 3 Weeks!
Program Description
The Phlebotomy Program provides students with the basic knowledge and skills needed to safely draw blood, label and maintain specimens. This 3 week program consists of 80 hours (50 hours of classroom instruction and 30 hours of clinical/lab experience).
Academic Requirements for Graduation from the Phlebotomy Technician Program
Students must earn a cumulative grade point average (GPA) of at least 2.0 (Equivalent to GRADE C or ABOVE) to graduate from the program. While attendance is not calculated into individual course grades or the overall GPA, students must be scheduled for a minimum of 90% of the program's total clock hours through scheduled attendance or make-up sessions, achieve a minimum attendance rate of at least 70%, and receive a final grade for all courses in order to graduate from the program.
There will be no charge for make-up sessions.
*While CDE CAREER INSTITUTE actively assists students in their job search; we cannot guarantee employment to any student. If local employment opportunities are not available, relocation may be necessary.
Program Structure/Curriculum:
| | | | |
| --- | --- | --- | --- |
| Course# | Course Title | Hours | Delivery Method |
| PHL 100 | Introduction to Phlebotomy | 15 | Instructor Led |
| PHL 101 | Medical Terminology | 15 | Instructor Led |
| PHL 102 | Venipuncture equipment/Continued Special Collection | 15 | Instructor Led |
| PHL 103 | Special Collections | 5 | Instructor Led |
| PHL 104 | Specimen handling, transfer and processing | 10 | Instructor Led |
| PHL 105 | Quality Phlebotomy | 7 | Instructor Led |
| PHL 106 | Legal issues in Phlebotomy | 6 | Instructor Led |
| PHL 107 | Metric system measurements | 6 | Instructor Led |
| PHL 108 | Final Exam | 1 | Instructor Led |
| | TOTAL | 80 | |
What is a Phlebotomist?
Phlebotomists draw and prepare blood for medical testing, transfusions or donation. Phlebotomists are trained to collect blood via venipuncture, finger pricks, or in the case of infants, heel pricks. Phlebotomists typically work in hospitals, clinics, outpatient care facilities, diagnostic laboratories and blood donation centers.
What Does a Phlebotomist Do?
Phlebotomists play a vital role in the administration and management of blood draws for diagnosis, transfusion and research purposes. On any given day, a Phlebotomist may be asked to:
– Prepare patients for blood draws
– Verify patient identities and ensure proper labeling of collection vials
– Explain blood draw or transfusion process to patients
– Guide nervous patients through blood draws
– Conduct blood draws and transfusions
– Assist patients who experience adverse reactions following a blood draw or transfusion
– Follow directions of supervising physicians
– Identify, label and track blood samples
– Gather, inventory, and maintain blood draw instruments and supplies
Above all, Phlebotomists must care for patients and take steps to prevent tainting or degradation of samples, such as Hemolysis, which may impact the accuracy of tests.
How much does a Phlebotomist earn in New Jersey?
According to Salary.com, the average Phlebotomist salary in New Jersey is $39,159 as of February 26, 2021, but the range typically falls between $35,269 and $43,737. Salary ranges can vary widely depending on the city and many other important factors, including education and certifications among other factors
What Certifications or Degrees Do I Need to Become a Phlebotomist?
Employers require candidates for Phlebotomist positions to hold a certificate from an accredited college, university, technical school or vocational school.
How long is the Phlebotomy Program?
CDE Career Institute, a NJ licensed and accredited vocational school, offers the Phlebotomy program in less than a month (typically 3 weeks) and includes classroom instruction and hands-on training.
Are Phlebotomist in high demand?
Employment of phlebotomists is projected to grow 17 percent from 2019 to 2029, much faster than the average for all occupations. Hospitals, diagnostic laboratories, blood donor centers, and other locations will need phlebotomists to perform bloodwork.
If you're interested in becoming a Phlebotomist, reserve your spot now as classes are filling up fast!